ScaleTrains.com (China) GE GTEL 4500 Standard Turbine
---
Introduced: 2021
As pictured above, some of these models come with tenders and some don't (based on the prototype in question). They are available either DCC-Ready or equipped with factory-installed ESU LokSound 5 Micro DCC-Sound decoders. Internally, they are a bit of a departure from STC's 8500 "Big Blow" turbines of 2017. In addition to the obvious truck differences, the 4500 does not have a giant metal "lid" screwed to the top of the chassis base like the 8500 did -
The locomotive chassis is one big hunk of metal. The open-sided motor is 5-pole and skew-wound. A large brass flywheel is attached to each motorshaft. The plastic dogbone-style driveshafts fit inside of notched plastic cups (inside of the flywheels on one end and attached to the wormshafts on the other). The brass worms are mounted inside of the truck towers (and thus pivot right along with the trucks). Brackets clipped to the tops of the truck towers hold the trucks loosely inside the chassis. Wires from the trucks transfer track current to the main PC board. Additional wires from said board transfer current to the motor. The main PC board is screwed to the top of the chassis. The plastic speaker enclosure is clipped to the underside of the main PC board. A bit of clear tape across the top of the PC board helps prevent the wires from moving around -

All four axles on the outer two trucks are geared and all gearing is black plastic. There are no traction tires, so all sixteen wheels provide pickup (by way of wired axle-tip wipers). The wheels are blackened and low-profile (no problems on Atlas C55 rails). The axle gears can be accessed without removing the truck sideframe/bottomplate castings (a major improvement over the Big Blow models). The McHenry-style couplers are mounted to the truck end-platforms. STC states that MTL couplers can be substituted in place of the stock couplers. However, the coupler boxes are integral to the trucks, so making the switch would involve swapping out the internal coupler "guts" instead of simply swapping coupler boxes -
The main PC board provides a 21-pin interface for installing a decoder. The DCC-Ready models come with a dummy plug connected to said interface -
LED lighting for the directional headlight, flashing gyralight and red UDE light comes courtesy of a separately wired PC board mounted on the front of the chassis. Two additional LED boards on the front provide light for the numberboards. Yet another board mounted to the back of the chassis provides lighting for the backup light. F0 controls the headlight, F7 controls the gyralight and F6 controls the UDE light. On the DCC-Sound models, the numberboards are only lit when the sound is turned on (via F8). For models without a tender, the backup light is also controlled by F0. For tender-equipped models, the backup light can be turned on and off using F5. A backup light is also provided on the tender (with current provided by wired needlepoint axle / dimpled axle-cup wipers). And yes, the tender that comes with the DCC-Sound set actually has a factory-installed decoder somewhere in there (to provide directional lighting control). And sorry, said tender is an extremely complex assembly, so I'm not even going to try to take it apart in order to get pictures of the inside.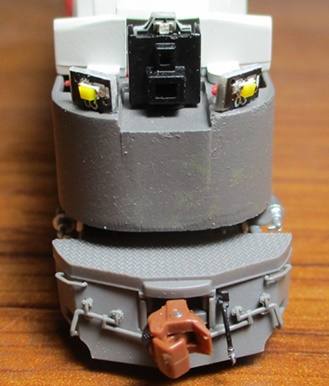 Like STC's earlier Big Blow turbines, the decoders in these models are configured to simulate "Hostler" mode. When in Hostler mode, the turbine sound is off and the top-end speed of the locomotive is relatively low. Activating the turbine via F3 takes you out of Hostler mode and the available speed spectrum of the locomotive increases accordingly. With the sound turned off entirely (via F8), the faster speed table is used by default.
As we've come to expect from STC, these are stunningly gorgeous looking models that feature more tiny little detail parts than you can shake a stick at. Unfortunately, performance doesn't quite rise to the level of the looks. On the plus side, they do run extremely smoothly and quietly at all throttle levels. Pickup is flawless, slow speed creep is excellent, and the top-end speed is reasonable and realistic. No problems with any of the wheels derailing (even on super sharp 9.75"-radius curves). But on the down side, they are not particularly impressive in the pulling power department. Evidently the design of the inner trucks results in somewhat poor weight distribution and the end result is decreased pulling power (I'm told that removing the inner trucks actually increases pulling power by about 20%, but of course no one is going to want to do that). As is, mine can't even manage thirty assorted 50' freight cars on level track (29 seems to be about its limit). Which wouldn't be bad for a typical four-axle diesel like a GP40 or something, but a big ol' turbine? Come on. It's a tough call, but ultimately I think it's enough of a drawback to knock this model out of the "A" category and down to a "B". But that said, if pulling huge long trains isn't your primary goal, you should be more than happy running one of these little beauties.
Prototype -
The Union Pacific Railroad's quest for higher horsepower locomotives during the 1930s through 1960s led to some of the most interesting motive power in railroading history. In 1949, UP and General Electric (GE) began experimenting with gas turbine powered locomotives. The tests were successful so UP ordered 10 Standard Turbines which were delivered in 1952 and 1953. These powerful locomotives ran alongside UP's fabled FEFs, Challengers, Big Boys, Veranda Turbines, and "Big Blow" Turbines. They were retired by the summer of 1964.
Features -
- Era: 1952-1964, UP series 51-60, built 1952
- Fully-assembled
- Multiple road numbers
- Clear LED lighted front mars light
- Red LED lighted front "UDE" light
- Printed and LED lighted number boards
- Operating LED directional nose headlights
- Etched-metal Farr side grilles
- Numerous factory-applied detail parts
- Pilot-mounted screw-on front and rear semi-scale Type E knuckle couplers
- Front and rear trainline hoses with silver gladhands
- Front and rear uncoupling levers
- 16 wire grab irons including short nose grab irons
- Non-operating class lights
- Four (4) side and single rear ladder
- Windshield wipers
- Detailed cab interior with floor, control stand, seats, and rear wall
- Molded sunshades
- Dual Leslie Tyfon A200 blat horns
- Detailed roof with dynamic brake housing, diesel engine exhaust stack, turbine exhaust stack, radiator grille, ventilation boxes, steam generator vent, and more
- Photo etched metal roofwalk
- Diamond plate tread pattern on rear platform
- Brake wheel and stand mounted on rear platform
- Five air tanks
- Aluminum truck sideframes
- AAR type B trucks with separately-applied brake cylinders; molded rerail
- Motor with 5-pole skew wound armature
- Dual flywheels
- Forward and rearward trucks are geared
- All-wheel electrical pick-up
- Directional LED headlights
- Printing and lettering legible under magnification
- Operates on Code 55 and 80 rail
- Durable packaging safely stores model
- Minimum Radius: 11"
- Recommended Radius: 18"
DCC Features -
- ESU-LokSound 5 Micro DCC and sound decoder
- Uses decoder ESU58429
- "Sugar cube" type speaker
- Prime mover sound in "Hostler Mode"
- Turbine sound when activated
- Auxiliary sounds, horn, bell, and more
- Operates on both DC and DCC layouts
- 21 pin MTC connector
Shell Removal -
The shell is held to the chassis by way of four little claws molded inside of the shell. Their locations are easy to spot, so just stick some toothpicks in the openings to free them up and the shell should come off readily.
Grade: B
---