Overland Models Inc/Ajin (Korea) Brass EMD E7/E8/E9
---
E7A

E8A

E9A
E9A & E9B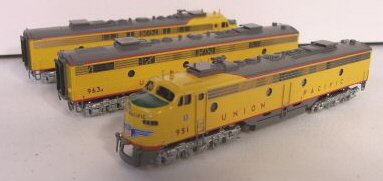 Introduced: 2005
All of these Overland EMD "E" units came out at the same time and presumably share the same chassis/mechanism. So, I'm going to save myself a bit of time (not to mention money) and review them all here (based on the pair of E7s I've actually purchased).
These models represent a great leap forward for N scale brass - finally employing some of the locomotive conventions that've been commonplace in mass-manufactured plastic diesels for a quarter of a century. Rather than going with the old-school marriage of a heavy brass shell and a light/flimsy chassis, these models instead have a very light, very thin-skinned shell and an honest-to-gosh heavy-metal, split-frame chassis. And you can kiss your tiny screwdrivers goodbye on these babies - the shells are held to the chassis by nothing more than friction (and lift right off with a minimum of effort).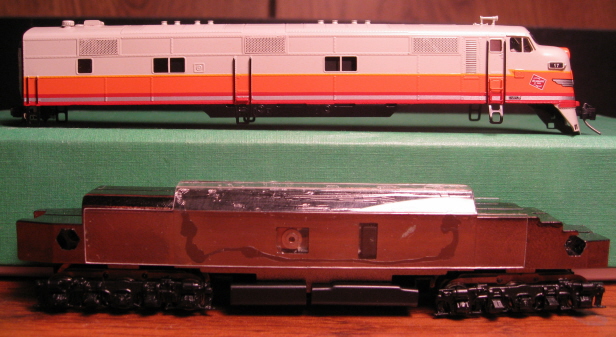 The chassis itself is kind of an odd duck, at least in terms of its composition. Rather than the traditional flat/gray metal we're familiar with in Chinese-made locos, these are made of some sort of weird, shiney (almost chrome-like) metal. Very strange, indeed. But whatever the stuff is, it provides plenty of heft (and hence, plenty of pulling power). The guts of the mechanism are virtually identical to the inner-workings of a modern Kato or Atlas diesel model. IE dual driveshafts and flywheels, and bearing-block mounted worm gears (all sandwiched between the electrically isolated frame halves). There is nary a wire to be found anyplace on this model. The motor is a 3-pole, skew-wound job. All wheels are geared and provide pickup.
The trucks still use wipers to collect current from the backs of the wheels. Current is then transferred to the chassis via the truck assembly itself (which, apart from the sideframes and gears, is all metal). I suppose it'll take Ajin another 25 years to dump the wheelwipers in favor of sideframe-cup/needle-axle current collection.
Performance is about as good as I've ever seen from OMI/Ajin. I'd say these run about as well as a modern split-frame Bachmann trainset locomotive (F7, GP40, et al). And that's not meant to be an insult - those models are solidly reliable runners (rather, it's in the "looks" department where those models suck, but that's a topic for elsewhere). Despite the wheelwipers, pickup is perfect (it's over time that I worry about them). Throttle response is absolutely smooth. Slow-speed creep is superb (although the top-end speed is exceedingly high). These models run relatively quietly, but do have that "cheap motor" growl to them (although perhaps this will improve with a bit of lubrication and break-in time). Despite the flywheels, these still seem to start and stop rather abruptly.
The shells are everything we've come to expect from Overland, coming with pre-installed Microtrains couplers, window glazing and directional lighting (which is mounted inside the shell and not on the chassis). Experts tell me that these are far and away the most correct EMD "E" units ever produced in N scale, coming far closer to nailing the prototype than anything ever offered by Kato, Life-Like, Con-Cor or Atlas.
So, despite the minor deficiencies, I have to say that these are the first brass locomotives I've yet encountered where I would feel comfortable and confident operating and maintaining them.
Note- although Overland announced various other "E" units at the same time they announced these (E5s, E6s, et al), only the 7's, 8's and 9's were ever actually produced (due, I suppose, to low pre-orders on the other ones).
Grade: A
---