Life-Like (China) EMD E6 / E7 / E8
---
E8 -
E7A & E7B -

E6A & E7B -
Introduced: 1995 (E8A), 1997 (E7A / E7B), 2000 (E6A) and 2004 (Revised E8A / E8B)
These Life-Like EMD E units are all rungs on the same evolutionary ladder, so I'm going to save myself a bit of time and cover them all here.
During the 90's, Life-Like carved a nice little niche for themselves by releasing a series of nice looking, good running, and (most importably) affordably-priced diesel models. This tradition continued with their 1995 E8A, 1997 E7A/B, and 2000 E6A models (all of which share the same chassis/mechanism) -

As in Life-Like's previous 1990's diesels, these models have a relatively flimsy plastic chassis (with most of the actual heft provided by huge weights clipped over the tops of the worm gear boxes, as well as an all-metal fuel tank clipped to the bottom of the chassis). The motor is a powerful skew-wound 5-poler with dual driveshafts. All wheels provide pickup, although only ten of the twelve wheels are geared (the center axles on each truck being idlers). All gearing is plastic. A non-directional headlight is mounted atop the forward weight. The wheels are blackened and low-profile (no problems on Code-55 rails). The pilot coupler is a dummy (non-operational) knuckle mounted to the shell. The rear coupler on A units is a truck-mounted Rapido (as are both couplers on the B units).
Although a bit of a frankenstein's monster in the looks department, these mechanisms are fairly sophisticated and sport a couple of features not hitherto seen on a Life-Like model. The pick-up scheme is of the "low friction" ilk, with current transferred to long brass contacts mounted atop the chassis. Wiring is minimal - apart from the wires for the headlight, the only other wire is a short one running from the right-side chassis contact strip up to the top motor contact. Another new feature for Life-Like are the dual flywheels.
These models look and run great. Shell detailing and paint are are quite fine (especially given the prices these went for). Performance-wise, they're smooth, quiet and responsive at all throttle levels. Pickup is flawless and pulling power is impressive. The giant flywheels and slow-speed gearing make these locos a joy to operate. My only real complaint with these is the couplers. At least for me, successfully converting them to Micro-Trains couplers is damned near impossible. The portion of the trucks where the couplers seat is too small for a simple drop-in conversion, and the tiny modifications necessary to make room for the MT's require some fairly sophisticated modeling skills (skills that apparently I don't possess).
Dummy "B" units were introduced as part of the 1997 E7 release (available only as part of an A/B set). The same dummy E7B unit was used incorrectly in the 2000 E6 A/B release (incorrect because, although very similar, the window arrangement on an E6B is not that same as that of an E7B). E8B units (dummy or otherwise) were not produced as part of the original 1995 E8 release.
Making a powered E7B is a simple matter - just plop the shell from a dummy B onto a powered A chassis. And if you're not going to power your "B", I'd at least recommend adding some weight to it. They're very light and tend to bounce and rattle along otherwise.
In 2004, Life-Like released completely revised E8 models under their "Proto N" banner (sold in Walthers packaging, but with "LL" in the Proto N logo). This new release features working Mars lights on the A units, as well as actual powered "B" units. The A unit shells are basically the same as on the original 1995 release, with the noteable exception of shell-mounted couplers (still Rapidos, though). Also, the internal bumps/ridges (that hold the shell to the chassis) are different between the two versions, so some modification is necessary when swapping shells.
Other new features:
- Split Metal Frame Mechanism
- Scale Size Front Pilot Coupler Opening
- Easy conversion with Micro-Trains 1015 couplers
- Plastic fuel tank
Performance of this new mechanism is outstanding in every way, and I give Life-Like major credit for doing away with the truck-mounted (and impossible to convert) Rapido couplers. However, the lack of any kind of support for DCC is bit disappointing for a 2004 model. Oh, and the "Mars Light"? Sorry, I'm not impressed. If I wanted my headlight to flicker like it was running over bad track, I'd just run it over bad track. DCC Mars Light effects are much more convincing.

The old E6 and E7 models were discontinued shortly after the 2000 E6 release. And at least as of this writing (2014), they have yet to be re-released with the new all-metal mechanism.
Trivia - Life-Like E6, E7 and E8 shells will fit on Kato's E8 chassis (a quick and easy way to make your Life-Like loco DCC-Ready). Life-Like E6 shells are also reportedly a decent fit for the BLI E6 chassis, although some minor modifications may be necessary to get a good fit.
More trivia - these models have been sold in Moki/Micro Ace packaging (presumably not for the North American market) -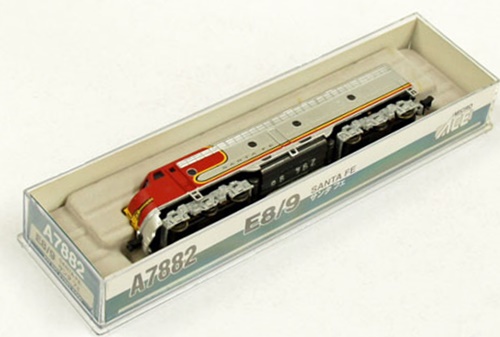 Fun fact for beginners - tell an E7 from an E8 by its windows. An E8 will have round "porthole" style windows, whereas an E7 will have square ones. E6's are easily identified by their rakishly slanted nose.
Shell removal is simple, just spread the sides apart and lift.
Grade: A (for all of 'em)
First-run E8 reviewed: 1/96 Railroad Model Craftsman, 6/95 Model Railroader ("Life-Like has added an E8 locomotive to its growing stable of medium-priced N scale engines. This cab unit is a smooth-running model with enough pulling power to reproduce its legendary prototype's performance as one of the most popular and most reliable first-generation diesel passenger locomotives... The ready-to-run model is made in China and represents a prototype without dynamic brakes. I checked the dimensions against (prototype drawings) and found them right on. Door latches are a minor ommision, and the top of the headlight housing should flare more smoothly into the top of the nose. Also the top corners of the nose should be a bit more rounded. The silver paint on our sample was a bit grainy, but well within acceptable limits. This is a good- looking engine...
"Removing the body shell is easy. Just spread the sides... and gently lift. Inside is a plastic frame with enough weight to balance several large tires - this baby is heavy. The weights are held in place with plastic clips that are easily removed. This is a commendable feature, as weights are free to shift around in most engines where they are separate parts. For even more weight, the fuel tank is a metal casting that gets weight down low where it can be more effective. The E8's open-frame motor features a five-pole skewed armature. The flywheels at each end of the shaft are a first for Life-Like in N scale. The driveshafts are flexible rubber tubing. Worm gears at each end of the chassis drive the gear-tower type drive usually see in N scale. There was way too much grease on our sample and if you encounter the same excess I'd recommend cleaning it off with a Q-tip. All the extra grease does is trap dirt. Four wheels on each truck are powered and also pick up electricity. Incidentally, the current is conducted through thin metal strips so there are no wires to flex and break... The wheels are solid turnings that plug into a cast plastic axle. They have a dull chemical finish that avoids that unnatural shiny look. The tread depth matched my NMRA gauge closely, but one wheelset on each truck was a hair tight on gauge. This can easily be corrected by holding one wheel in your fingers while you gently twist the other one out of the plastic axle.
"The locomotive ran smoothly with excellent slow-speed control and will "pull the wallpaper right off the wall". MR's sample produced a drawbar pull equivalent to 13 free-rolling passenger cars on straight and level track. The engine comes with a Rapido-type coupler on the rear... The front coupler is a dummy held in by a plastic pin... According to Ed Weiss, VP for marketing at Life-Like, the company intends to bring out a new N scale engine each year. Whenever you see the firm introduce a new HO engine, you can figure an N scale version is about six months down the line. This allows Life-Like to get extra mileage out of the research and design done to produce the HO model. In the case of the N scale E8, the company was able to correct minor errors in painting and decorating that were discovered after the HO version was produced. N scale E8s have been available off and on from other manufacturers for many years. Still it's good to see another nice model join the fleet, particular as this version falls in a price range for those who have to watch their model railroading budgets. Amtrak, ATSF, B&O, C&NW, EMD, L&N, PRR, UP, Undec. $50")
E7 reviewed: 7/97 Model Railroader ("Life-Like's new E7 looked very good at first glance straight from the box, and looked even nicer when I took a closer look. I was truly impressed by the level of detail molded into the shell - detail that can often be found only on more expensive models... Like the prototype, Life-Like's model is available in A and B (cabless) units. Only the A units are powered, but the B unit shell will fit on a powered chassis without modification. The shells are one-piece injection-molded styrene castings with separate air horns, diaphragms, and window glazing. The interior bracing is nicely "shadowed," making it visible behind the screens along both sides. The rooftop radiator grids are crisply rendered. Other details are also sharp, including the fuel gauges and fillers, batten strips, and simulated lift rings. The model's dimensions are all within an inch or two of drawings... My only complaint with the shell is a minor one, and it involves the nose of the A unit. Comparing the model to prototype drawings, the headlight appears slightly undersized and the windshield looks like it falls off to the side at too steep an angle. The result is a bit of a bulbous appearance to the nose... The painting and lettering on samples were outstanding... The model runs extremely well, starting and running smoothly through its full speed range. It shares the same chassis and motor as the firm's earlier E8... It features a five-pole skew-wound motor with twin flywheels. The cast-metal frame has extra weight that fills most of the interior... Life-Like has brought out another outstanding N scale locomotive at a very reasonable price. I think many N scalers will find a spot for an E7 on their rosters. B&O, B&M, C&O, C&NW, CRI&P, GN, NYC, UP, Undec. Price: $50 (A unit), $25 (B unit)")
E6 reviewed 8/2000 Model Railroader ("Life-Like's N scale E6 A and B follow the same construction as the firm's earlier E unit models. The shells are injection-molded styrene, with most details, including grab irons, stirrups, steam generator hardware, and pilot molded in place. The side screens are nicely done, with visible simulated bracing. The horns and diaphragms are separate plastic parts. Clear plastic glazing is glued in all of the window openings, with wipers (painted silver) molded onto the windshields. The truck sideframes are single-piece plastic castings that wrap around the trucks. The sideframe detail is OK, but quite shallow. All of the models' major dimensions match drawings of E6 A and B units... The rakish nose, which slants at a sharper angle than noses on the E7 and later E units, is well done, but the model has a bit of a sharp angle just above the rear of the anticlimber on each side. This area should be more gently rounded. To remove the shell from the frame, gently pull apart the shell at the skirting above the fuel tank. The frames on both models are plastic, with a cast zinc-alloy fuel tank below the frame. The A unit has weights fore and aft of the motor. Bronze strips run atop the frame along each side to carry power to the motor. A five-pole skew-wound motor, with turned brass flywheels at each end, drives brass worms at the gear towers above each truck. Only two axles of each truck are powered - the center axle is unpowered. All wheelsets on our samples were in gauge... No provision is made for command control... The engine ran smoothly and quietly through its speed range, which - in a possible first for N scale - is very close to that of prototype E6s, which were generally geared to top 100 MPH. It's 1.7 ounce drawbar pull should equate to about 30 passenger cars on straight, level track... The couplers are all mounted at the proper height. The spacing between the A and B is a scale 5 feet, two more feet than the prototype... The painting and lettering look good... B units are available only for those railroads that actually operated them. These sharp models of slant-nosed Es fill a void in the market, and it's great to see them now available. ACL, AT&SF, B&O, C&NW, CMSP&P, IC, L&N, SAL, Southern, UP, Undec. Price: $95 (powered A and unpowered B), $65 (powered A only)")
---