Kato (Japan) EMD SD40-2
---
"Early Production"
"Snoot Nose"

"Mid-Production"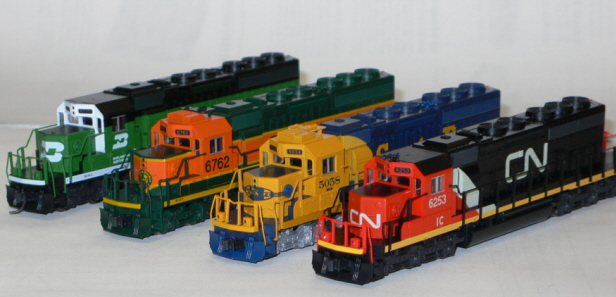 Introduced: 2000 (Early-Production and Snoot-Nosed SD40-2), 2007 (Mid-Production SD40-2) and 2013 (DCC-Equipped SD40-2)
These models are all rungs on the same evolutionary ladder, so I'm going to save myself a bit of time and cover them all here.
As noted above, 2000 saw the release of two different SD40-2 models - a so-called "early production" version as well as a "snoot nosed" version. Both models share the same basic chassis/mechanism and come with all of the time-honored design features one normally associates with "modern" Kato diesels - IE, split-frame / DCC-Ready metal chassis, dual-flywheels, low-friction drive, plastic truck assemblies, plastic gearing, blackened wheels, all-wheel drive, and all-wheel pick-up (no traction tires). The motor is an open-sided 5-poler. Directional lighting is provided by a single lightboard mounted to the top of the chassis (in the above picture, I've swapped out the stock lightboard in favor of a Digitrax decoder). Wheels are low-profile and have no problems on Code-55 track.
Prior to 2013, the couplers were Rapidos (easily swapped out for MT's). With the 2013 production run, these were switched to Kato's proprietary automatic/magnetic couplers. 2013 also saw the release of several decoder-equipped SD40-2 models. These were sold under Kato's "Kobo Customs" banner and came with preinstalled TCS decoders.
A "mid-production" SD40-2 was released in 2007 (sporting a completely redesigned chassis / mechanism) -

This new chassis is "screwless" (with the chassis halves being held together by the fueltank and the motor saddle). The front end of the chassis is contoured slightly differently from the earlier version to accommodate the light-conducting plastic inside the shell that routes illumination to the ditch lights. Internally, these models lack the traditional "bearing block / worm gear" assembly of pretty much every other Kato diesel. Rather, the worms sit in swiveling plastic brackets (which in turn lock to the truck gear towers) -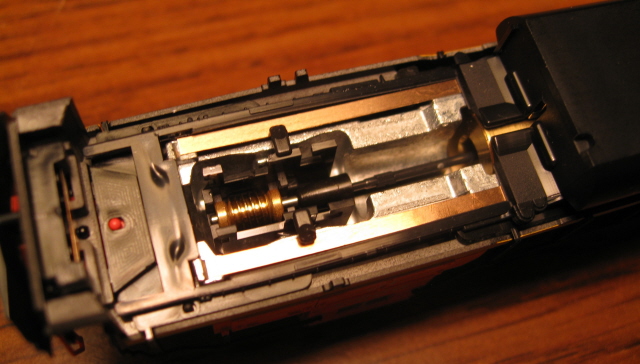 The mid-production SD40-2 also employs another new Kato feature - their so-called "shock absorber construction". The brass strips that conduct current from the trucks to the chassis used to be free-floating (free to spring up) on previous Kato models. Under the "shock absorber" system, they run the entire length of the chassis and are held firmly in place by plastic extensions coming off the fuel tank. This provides firm (IE, sprung) downward pressure on the truck contacts, with the net result being a quieter ride. Similarly, the center axle of each truck is sprung (downward pressure provided by the needlepoint pickups in the wheels) -
Despite the radically different internals, performance on all these models is perfect in every way - smooth, quiet, flawless pickup and throttle response, exceptional pulling power, etc.
Removing the shell on all these models is very simple - take hold of the fuel tank with one hand and the shell with the other, then just sort of wiggle it up and off.
Here's what Kato has to say about them -
As a prototype, the SD40-2 was the most popular second-generation diesel with sales of over 3000 in the U.S. and more than 700 in Canada. There were many variations of this popular diesel because of the long production run, with Early units representing a pre-1990 appearance and Mid Production units depicting later runs of locomotives. BN amassed a fleet of 827 SD40-2's. They started out hauling coal trains out of Wyoming's Powder River Basin and then started moving transcontinental freight between the West Coast and the Midwest.

The CN - IC Repaint has generated interest from both the Canadian modelers and the U.S. modelers because of the IC (Illinois Central) markings on a CN locomotive. Built originally for the Burlington Northern, they were later purchased by the Illinois Central and are now owned by the Canadian National. They are used with other CN power on all types of freight service and are occasionally used in pool service with other roads.

Mid Production EMD SD40-2 locomotives mirror a post-1990 locomotive, with deck mounted ditch lights so the modeler can use them with their modern freight rolling stock and in combination with other modern locos. Mid Production road names come with prototype accurate detailing with regards to horn a nd air conditioner placement as well, with Santa Fe (and ex-santa fe, respectively) units having their airhorns mounted towards the rear and additional antenna and air conditioning units over the cab.
Model Features -
- Equipped with body mounted KATO magnetic knuckle couplers.
- Locomotives feature directional Golden White LED headlights.
- Mid Production: Lighted ditch lights and illuminated preprinted numberboards.
- Mid Production: Shock absorber construction for reliable performance.
- Mid Production: DCC friendly and ready for drop in decoder installation of a Train Control Systems K1D4-NC.
- Early: DCC friendly and ready for drop in decoder installation of a Train Control Systems K1D4.
- Low flange wheels.
Grade: A (all versions)
---