Kato (Japan) MPI MP36PH / MP40PH-3C
---

Introduced: 2011 (MP36PH), 2012 (DCC-equipped MP36PH) and 2014 (MP40PH-3C)
Another fine looking and sweet running diesel locomotive from Kato, this model continues Kato's recent trend towards "screwless" chassis design (with clips on the motor saddle and fuel tank serving to hold the whole thing together). And like their 2002 P42 Genesis model, the pilot and end platform (wherein live the couplers) are separate pieces from the shell and underframe and simply clip to the chassis.
This model features a standard split-frame / DCC-Ready / all-metal chassis with dual-flywheels, low-friction drive, plastic truck assemblies, plastic gearing, blackened wheels, all-wheel drive, and all-wheel pick-up (no traction tires). The motor is an open-sided 5-poler. The couplers are Kato's proprietary magnetic knuckle couplers (easily swapped out for MT's). Wheels are low-profile and have no problems on Code-55 track. All detailing comes preinstalled.
In addition to the screwless chassis, these models also employ Kato's so-called "shock absorber" construction. IE, the chassis wiper strips are held firmly in place (and thus "sprung") by the long plastic underframe.
Forward lighting is controlled by a PC board mounted on top of the chassis (underneath the grey plastic shroud). A complex assembly of bi-color light tubing inside the shell causes different lights to shine either red or white (depending on the direction of travel). Thanks to capacitors on the PC board, said lighting is bright and constant. Oddly enough, there is no provision for lighting the tail end. Said lightboard also has motor contacts and thus can be swapped out in favor of a DCC decoder.
Performance is mostly outstanding - smooth, quiet, flawless pickup and throttle response, exceptional pulling power, etc. And like the rest of Kato's line of diesels, these things glide around the rails virtually sans friction - taking nearly three feet to come to a complete stop when dropping down from full throttle. I guess my only nitpick is that they seem a little "whinier" than we're used to from Kato. But perhaps that will go away after some lubrication and break-in time (and even if it doesn't, it's a minor quibble at best). My only other gripe is with the rear walkway assembly. It seems a bit loose fitting (as far as how it clips to the chassis), and consequently coupler height can be a bit off depending on how it's seated. If I were to run one of these and found I was having uncoupling problems, I'd probably apply a bit of white glue to the clips to hold them more firmly in place. And while I had the glue out, I'd also apply a little bit to the MU-cable details (said details being easily dislodged and lost).
One caveat here is that there were reportedly gearcase problems with some of the early production models (with the end result being gears that would lose mesh under even moderate loads). Kato's factory did address the issue, so it shouldn't be a problem going forward. Also, Kato will supply replacement gearcases for models that need them (provided they have them in stock).
Here's what Kato has to say about their MP36PH's -
The Motive Power International MP36PH is used by a number of cities across the country for commuter service, their often distinctive and colorful paint schemes serving to make these locomotives the figureheads for local commuter service.

Features -

- Sophisticated lightpiping and LED system for directional headlight and taillight functions across all six nose lights
- Illuminated pre-printed numberboards for push/pull operation
- Heavy duty five-pole motor and mechanism designed to pull a 10 car bi-level consist up a 4% grade without the need for traction tires
- DCC friendly
In 2012, Kato released DCC-equipped versions of their MP36PH under their "Kobo Customs" line. These featured preinstalled TCS decoders.
In 2014, Kato released a "sort of" MP40PH-3C model (also under their Kobo line) -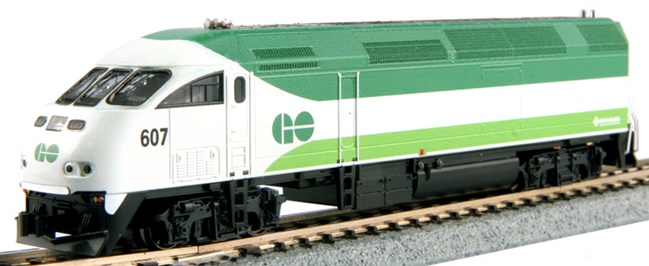 Here's what Kato has to say about these -
The newest available custom painted and detailed model from Kato USA will be the N scale MP36PH locomotive, modified and repainted into the colors of GO Transit's MP40 locomotives! Two different paint versions will be available - GO Transit's current scheme and their new, two-tone green one (currently painted onto one locomotive, #607).

These locomotives will be offered as part of the Kato USA Kobo Custom Paint line, hand-painted and decorated by a master modeler in Japan. While they will not be a limited run, all orders will be processed in a made-to-order fashion and will available on a first come, first served basis until the base models run out. These items are also custom-painted ONLY - they are not fitted with DCC. DCC is available for an additional cost upon request, please call us for details. Due to the hand-made nature of this item, some minor blemishes and differences may be present from model to model and Kato USA cannot take returns on items unless they possess major paint or mechanical issues.

These locomotives will be custom painted and have some detail modifications in order to make them as close to the prototype as possible, but be aware that since they were originally MP36PH's they will not be a 100% accurate match to the MP40PH prototype.
To remove the shell, simply take hold of the fuel tank with one hand and the shell with the other, then just sort of wiggle the shell up and off. Be sure to unhook the rear handgrabs from the shell first.
Grade: A (with the caveat re the early gearcase issues)
---