Con-Cor Alco PA-1 & PB-1
---
Introduced: 1967 (Kato-made version), 1972 (revised Kato version), 1994 (Chinese-made version) and 2003 (Chinese-made DCC version)
These Con-Cor Alcos are classics in every sense of the word. They were the very first N scale locomotives produced by Kato for Con-Cor (a partnership that would last for over twenty years) and were, without a doubt, the best N scale diesel locomotive models available for many years (the early years of N scale being, as many will attest, a very painful time filled with just a whole lot of crappy models). As noted above, there have been four distinct versions of this model (although the actual shells have remained pretty much the same throughout). Oh, and none of these models should be confused with the PA/PB models "Kato USA" released in 1998 - those being completely different animals alltogether.
The original Kato-made Alcos came in three distinct flavors. All three versions sport a three-piece metal chassis (two halves on the bottom, one big piece on the top), however the 1967 version differs significantly from the later versions -
On the first version, the lower chassis consists of two thin (and electrically isolated) metal castings (either blackened or silver). The rest of the chassis consists of a larger white metal casting (which houses the motor, the gears and everything else). To prevent short circuits, nylon screws are used underneath the left (fireman's) side of the chassis and a thin sheet of plastic is sandwiched between the lower chassis halves and the upper chassis. The motor brushcaps on this version are visible through the top and bottom of the chassis (as opposed to the second release, where they are visible through the sides) -

Although the shells between the first and second versions are identical, one can easily identify a first-run Kato by its lack of the traditional plastic fuel tank mounted between the trucks. Rather, the fuel tank on a first-run Kato is simply a part of the chassis itself. The shell actually clips to tabs on the fuel tank portion of chassis (as opposed to later versions where the shell clips to the plastic fuel tank). The metal fuel tank on this version's lower chassis is stamped "Sekisui Con-Cor" and "Made in Japan" -

Guts-wise, the motor on the first version is considerably larger than the one found in subsequent versions. The driveshaft gearing is also quite different -
The initial release had no lighting whatsoever (oddly enough). However, the model was retrofit with non-directional lighting fairly early on (IE, before the completely redesigned second release). The addition of a headlight required only slight modification to the existing mechanism (IE, a couple of new holes were drilled into the chassis). The second version came with full directional lighting.
Taking into account their age, these first-run Katos are (relatively speaking) decent performers. The all-wheel pick-up and 5-pole motor make for smooth throttle response and fine slow-speed creep. The split-frame, all-metal chassis simultaneously eliminates the need for wiring and traction tires. On the downside, these do run considerably louder than any of the subsequent versions (most likely due to the cup gearing on the driveshafts). Four of the six axles are geared (this applies to all subsequent versions as well).
The second-run Katos (released circa 1972) were also blessed with high quality 5-pole motors, all-wheel pickup, and the benefits of that heavy-metal/wiring-free chassis. Better still, this version has a completely redesigned chassis/mechanism that eliminates much of the racket of the first version. Also, the somewhat problematic nylon screws used on the first version were replaced by metal screws with plastic collars. Directional lighting was an added new feature of this version as well. In fact, so bullet-proof was this elegant new Kato design that it would wind up finding its way into virtually every diesel locomotive model marketed by Con-Cor over the the next several decades.
Like the original release, some of these models have a blackened lower chassis and some do not (not sure why, but maybe the blackening works better with certain paint schemes?) -
Starting around 1982, an opening was added to the back of the chassis to accommodate the longer driveshaft/worm of the CC/Kato DL-109 (since both models shared the same upper chassis) -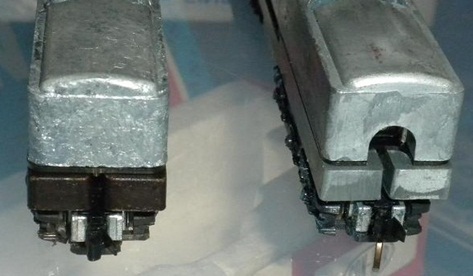 Throttle response on this second (and third) version is fine, slow-speed creep is excellent and overall the thing runs very smoothly. And given the heft provided by all that metal, these Alcos will pull a ton. Sure, as compared to more modern diesel models they're a bit dated - shell detailing and paint are not up today's standards, the top-end speed is hugely non-prototypical, and they do run a bit louder than we're used to nowadays. But still, given the era in which these were first designed and manufactured, one must admit that this was (and remains) a very respectable model.
Both "dummy" and powered "A" and "B" units have been available throughout the production run of these models. All of the dummy units have sported the same basic plastic chassis -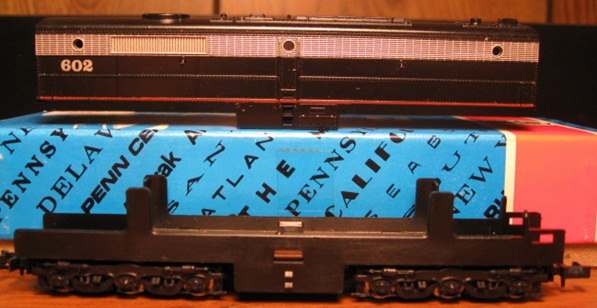 The Kato-made PA and PB's can be distinguished from the later Chinese-made units by their lack of plastic window inserts inside the windscreen and the portals. Also, the second-run Katos are stamped "Made in Japan" on the bottom of the plastic fuel tank.
The Con-Cor/Kato marriage came to an unhappy conclusion in 1989 when Con-Cor placed a locomotive reorder and Kato refused to comply. Consequently, the two companies "divorced" and all of the tooling that Con-Cor had originally contracted Kato to design and manufacture was sent back to Con-Cor's Tucson plant from Japan.
Since Kato did not produce all of the parts for these models "in-house" (having outsourced production of the driveshafts, wheelsets, gears, motors, screws, insulators, etc), it took Con-Cor a while to find new sources for said parts (mostly from their suppliers in China). However, by 1994 Con-Cor had managed to reorganize their production and released new Chinese-made versions of their venerable Alcos -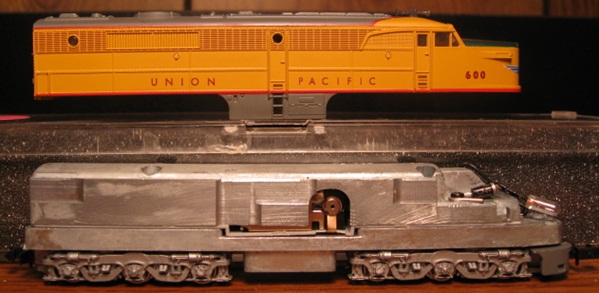 Although the two versions look virtually identical, the Chinese-made units are definitely the superior performers. The newer mechanisms run quite a bit smoother and quieter than the old Katos. Also, the top-end speed is much more reasonable. I'm assuming that all of this new wonderfulness is due to the newly upgraded motor - a 5-pole, skew-wound job.
Came 2003 and Con-Cor updated their venerable PA/PB models yet again -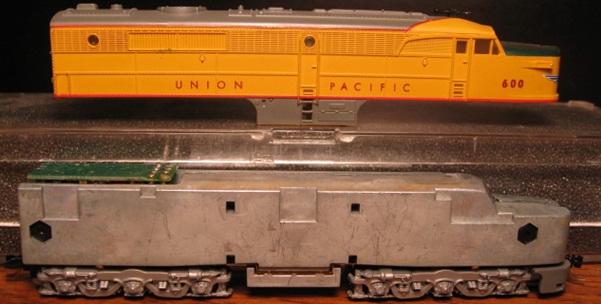 Features of the new design (as described by Con-Cor):
- Factory mounted Micro-Trains couplers
- Dual flywheel drive
- Factory installed PC board with 8 pin DCC plug
- High Torque / Quiet 5 Pole skewed armature motor
- Reversing headlight
- Heavy die-cast chassis for pulling power
- Highly detailed body casting
- Detailed paint and printing
- Multi cab numbers
- Old bodies interchangeable with new units, so it will be easy to upgrade your older Con-Cor N PA-1 units to this new drive if you choose
Amazingly, Con-Cor actually introduced with this release a dummy PB complete with built-in SoundTraxx DCC sound unit (and speaker).
I have to admit, my feelings about these most recent models are somewhat mixed. First off, the truck-mounted pilots/couplers are way beyond dated at this point. And although the models come with MT couplers right out of the box (yay), the "B" unit still has the same old loose-fitting, up-and-down, where-are-they-gonna-go-now MT coupler conversion that has been around for, like, forever (boo). And then there's the whole "my A unit has silver trucks and my B unit has black trucks" thing (repainted in the above picture, so you'll just take my word for it). Basically a lot of very moldy holdovers from the old 1960's design.
On the other hand, I really have to give Con-Cor major kudos for some of their great innovations here. The new mechanism with the DCC plug is awesome (best to use a wireless plug decoder such as the Digitrax DN143-IP). And performance is definitely top-notch - smooth and dead quiet. Also, it's a fine puller and can creep at amazingly slow speeds. Still, if this were simply yet-another-version of Con-Cor's decades-old PA, I probably wouldn't really care. Frankly, it's the DCC sound option in the PB that I find exciting. Factory-installed DCC sound is definitely something new and different for N scale (at least as of this writing), and Con-Cor should be congratulated for pushing that particular envelope years before anyone else.
Being my first exposure to DCC sound in N scale, the racket this thing makes is much more impressive than I would have thought possible. I cranked all of the sound affects (exhaust, bell, whistle and air brakes) up to their maximum level and I can literally hear the thing running several rooms away. The decoder must be fairly primitive by current standards, though. In fact, when I called Soundtraxx to inquire about downloading a manual for this decoder (DSD-CC2), the guy on the other end of the phone literally had no idea what I was talking about. "That thing must be ancient!", was his comment (ancient being a very relative term in DCC these days). Eventually he decided that it must be an "LC Series" decoder and steered me to those manuals. Sure enough, I was able to use them to properly program the decoder's CV's for volume, etc. And although the sound technology is "old", given the fact that it's a simple NMRA-plug install, the decoder can be updated to more modern technology with minimal effort.
So yeah, at this point there are probably better PA/PB options out there (both in terms of looks and performance). Still, Con-Cor's venerable old Alcos remain respectable models, and are an important part of N scale's early history.
Note- an easy way to identify the newest version is to look at the bottoms of the trucks. Previous runs had 3 visible gears (one large, two small) as well as four screws holding each truck assembly together. The newest version has no screws and only two visible gears per truck.
Grade: B (for the non-DCC versions) and A (for the DCC version)
Reviewed: 3/68 Model Railroader ("The well-designed mechanism incorporates a number of new ideas making assembly, maintenance, and electrical pickup effective. The 5-pole 12-volt motor has a split field magnet with the rear end of the armature shaft extending between the halves, thus providing a double-ended drive... Total speed reduction is about 16:1. All 12 wheels contribute to electrical pickup in another ingenious system of parts... The locomotive main frame is a block of die-cast metal which holds other parts to it and also provides weight for traction... Driving wheels scale 41" diameter and have flanges less deep than those of other N scale makes, but they seem to hold to the track at least as well. They are .022" deep. Most of the N scale engines we have tested have rather high minimum speeds, sometimes around 20 scale MPH. This model has superb performance at low speeds. Control is good through all speed ranges in spite of the unnecessarily high high maximum speed. The model should handle 20 to 24 passenger cars with ease - much more than the prototype. This model helps round out the available N scale diesel power roster, which now includes the F9 Rapido, the E8 Atlas and Rapido's Baldwin-type switcher... The Alco is available in 4 road names: GN, SP, PRR, SF. This is a superb model, no doubt the finest N scale locomotive produced thus far. Price: $14.98")
Reviewed: 12/94 Model Railroader ("Strictly speaking, Con-Cor's N scale Alco PA-1 is not a new product, but this is a new run, the first since 1988, and there's been some significant changes. For the first time there's a windshield, cab glazing, and glazing in the portholes. The trucks now come cast in the proper colors instead of black, and most important, there's a new 5-pole motor with a skewed armature. The graphics are also much improved, but beyond that it's still the same old Alco - and that's just fine. Those earlier PA-1's, made in Japan by Kato (that company's first American prototype engine), were the best running N scale engines you could buy at the time... The key to the success of Con-Cor's model, past and present, is its weight. The frame castings fill the entire body shell with metal, and the design is ingenious. This was elegant engineering 25 years ago and it still is... No traction tires are included, and with all that weight, none are needed. All 12 wheels pick up electricity. The wheels match NMRA standards perfectly... I just had to get out my old PA-1 and run it alongside the new release to see if they operate at compatible speeds. Basically they ran the same, good but a bit noisy by today's standards. Neither is quite in the class with recent releases from Kato... Plans also include matching powered B units (unpowered A and unpowered B units are available)... This newest PA-1 is assembled in Arizona from parts made in China, Japan, and the U.S. (Con-Cor says the engine is 80 percent U.S.) We're happy to see this classic N scale locomotive return. Undec, AT&SF, PRR, GN, SP, UP, NYC&SL, Amtrak, EL, D&RGW. Price: $69.98")
---