Bachmann (China) Alco RS-3
---
Introduced: 2011
Bachmann's RS-3 is a nice looking and decent running model. Unfortunately, the wiseguys over at Atlas have had the temerity to produce a mostly superior (and similarly priced) RS-3 model over the past thirty years, so I'm not sure who the audience is going to be for this one. It does have a factory-installed decoder (unlike the Atlas model, which isn't even DCC-ready), so it at least has that going for it.

The mechanism is a virtual clone of Bachmann's 2010 GP7 model (although unlike the GP7, this one has flywheels). The chassis is all-metal and split-frame. The motor is closed-sided (and presumably the same 3-poler used in other Bachmann locos of similar vintage). All wheels are geared, with all the gearing being plastic. All wheels provide pickup (no traction tires). The wheels are blackened and low-profile, so no problems on Code-55 rails. Wheelback wipers provide pickup, with current then transferred to the chassis by way of sticky-uppy contacts on the trucks. Current is transferred from the chassis to the decoder by way of four sticky-downy contacts on the board. Directional lighting is provided by small LEDs on the decoder board. Couplers are shell-mounted E-Z Mates (Bachmann's McHenry-eque automatic/magnetic coupler).
The model runs smoothly and responds nicely to throttle changes. Pickup is fine (no problems through insulated-frog turnouts). Slow speed creep is excellent and the top-end speed is very reasonable. Unfortunately, whereas my Bachmann GP7 ran virtually soundlessly, my RS-3 does have a bit of a buzz/grind to it as it rolls along. No, not horrible, but definitely noticeable. Pulling power is OK, but it's not wowing me either. Out of the box, mine could barely pull 15 cars on level track. And although that improved after some lubrication and a few hours of run time, it still maxes out at about 19 cars. Conversely, my Atlas RS-3 outpulls my Bachmann RS-3 by a wide margin (at least 2:1), which is a bit odd since the two models weigh exactly the same (2.35 oz). Another slight disappointment is Bachmann's continuing devotion to wheelback wipers and bendy/flimsy chassis wipers. Bendy metal contacts like that are simply not reliable, as they eventually get squashed down and/or bent out of shape and lose their conductivity.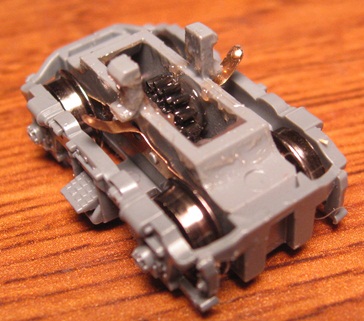 Although a nice looking model, Bachmann's RS-3 doesn't quite measure up to the Atlas RS-3 in that department either. The Atlas model has tread on its walkways and handgrabs molded into its shell (features the Bachmann model lacks). Also, Atlas's trucks have much finer detailing than Bachmann's. So, although a decent enough model in most regards, I think there are enough minor deficiencies with Bachmann's RS-3 to keep it out of the "A" category (a category wherein Atlas's RS-3 comfortably resides).
Here's what Bachmann has to say about their RS-3 -
Introduced in 1950, the all-purpose, 1600-HSP RS-3 diesel locomotive had the stamina and strength for freight and passenger service yet was agile enough for yard work. With its rugged, dependable design, it's no wonder that many of these versatile RS-3 locomotives are still working today on short lines, tourist lines, and hauling freight. Now in N scale, Bachmann's DCC-equipped model adds digital control and versatility to your stable of locomotives.
Features -
- DCC-equipped for speed, direction, and lighting
- Dual-mode NMRA-compliant decoder
- Eight-wheel drive
- Precision can motor
- Dual, precision-balanced brass flywheels
- Die-cast chassis
- Finescale handrails
- Blackened nickel silver wheels
- Detailed exhaust stack and fan
- Machined brass worm bearings
- Prototype-specific headlights
- NMRA wheel profile
- E-Z Mate Mark II couplers
To remove the shell, insert a small screwdriver between the chassis and the walkway and apply a bit of upwards pressure. There isn't much more than friction holding the shell on, but it's a very tight fit.
Grade: B
---