Bachmann (China) 2-8-4 Kanawha/Berkshire
---

Introduced: 2015
These fine looking and decent running locomotives were Bachmann's first N scale steamers to come with factory-installed DCC sound. As pictured above, there are two different versions (C&O Kanawha and NKP/Pere Marquette Berkshire). The two models have different tenders and slightly altered locomotive shell detailing.
Internally, these models are similar in design to Bachmann's other steam locomotives of similar vintage -

The locomotive chassis is all-metal and split-frame (the boiler shell is metal as well). The flywheel-equipped motor (#10208) appears to be a new one for Bachmann. And although my suspicion is that it's coreless, it's also an enclosed can so there really isn't any way to verify that theory (not without tearing it apart anyway). Six of the eight drivers provide pickup (the #3 driver pair being equipped with traction tires). All twelve tender wheels provide pickup as well (by way of low-friction axle cups). The pilot and trailing trucks are electrically neutral. Current is transferred from the engine to the tender by way of a pair of stiff wires on the plastic drawbar. A PC board with a directional headlight is mounted to the front of the chassis. Wires for motor control and lighting control are soldered to the lightboard and motor and run back to a socket connector that plugs into pins on the tender PC board. E-Z Mate automatic/magnetic couplers are mounted on the pilot and the tender chassis (Rapido-style couplers are included in the box should you want to go that route). Wheels are low-profile, so no problems on Code-55 rails.
Note that these models come with a small piece of black foam insulation wedged between the trailing truck and the locomotive chassis. Said insulation is nigh invisible, so I didn't even notice that it was there until I had the thing on my workbench. What led me to my workbench in the first place was the fact that the locomotive was having a heck of a time keeping its drivers on the rails (slipping and sliding), and of course it was the foam that was the culprit. Once removed, everything was hunky dory.
All drivers are equipped with separate bearing blocks. The center two driver pairs are geared, whereas the outer driver pairs are turned solely by the running gear. Apart from the brass worm, all gearing is plastic. Oddly enough, Bachmann went back to using white plastic for the gears on these models (although one would hope it's not the same crappy white plastic that plagued Bachmann's locomotives of the 80's and 90's).
A Soundtraxx DCC-Sound decoder comes plugged into the tender PC board. Unfortunately, Bachmann did not provide any sort of jumper that would allow one to remove the decoder and run the engine in straight DC mode. An LED on the tender PC board provides illumination for the backup light (routed from the PC board to the backup light via a small piece of light-conducting plastic inside the tender shell). Note that the default behavior for the backup light is for it to be on all the time (just dimmed when the locomotive is moving forward). For more standard behavior (IE, off when going forward and on when going backward) change CV 33 to 1.
An interesting new tender feature are its axle wipers - specifically, the ones on the forward truck. The portion of the wiper that contacts the drawbar wiring is much larger (wider) than found on previous Bachmann steamers. And and such, I assume the net affect is to dramatically increase one's odds of maintaining conductivity between the engine and the tender.
As pictured below, the pilot coupler mounting is pretty chintzy - basically consisting of a loose-fitting screw/post that allows the coupler to point upwards at a funny angle. Frankly, I'm not sure that it would work very well for double-heading (not without some modification, anyway). Unfortunately, it appears that repositioning it to ride more parallel to the track would also cause the trip pin to start hitting things. So, yeah, not a very impressive setup.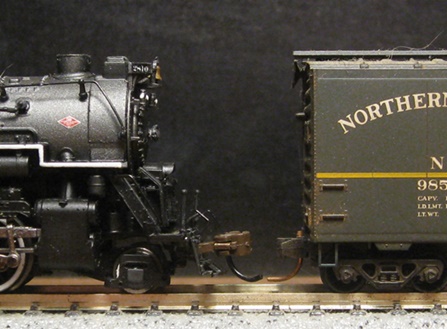 These are solidly respectable runners (for the most part). First off, they are very impressive pullers. I don't know what the actual upper limit might be, but mine has absolutely no problem hauling forty assorted 40' freight cars through curves on level track. Pickup and current conductivty are exceptional, making for very smooth throttle response. The moving parts synch up nicely, making for extremely quiet running (when the sound is turned off, that is). The top-end speed is quite realistic. I didn't have any problems with any of the wheels derailing (even on curves as sharp as 9.75"-radius). That said, I think that 9.75" is really pushing it, and that 11" is probably a more realistic minimum. The DCC Sound feature is, well... it is what it is. Suffice it to say, I have yet to encounter a sound setup in N scale that was anything but underwhelming.
Apart from the hokey pilot coupler, my only other quibble with this model is its slow speed performance. Creep speed (at speed step 1) is decent enough, I suppose. But then again, it's not quite "one tie at a time" either. Also, the locomotive tends to run just a bit growly and uneven at said slow speeds. Again, not horrible - just not quite optimal. Put it this way - if Kato's FEF 4-8-4 rates an "A+" for slow speed performance, I guess I couldn't rate this model any higher than "B+ / A-".
As for the origins of (and solutions to) these issues, who can say? Some have opined that it's the motor that's the culprit (insufficient torque). Others believe it's the Soundtraxx decoder (said decoders not being particularly reknowned for their ept motor control). For the intrepid experimenters out there, playing around with some of the BEMF CV's (209-210, 213-214) seems to both help lower the starting speed as well as smooth out the slow speed creep somewhat (suggested starting points - 209=15, 210=240, 213=1, 214=1). Or if you're really fussy, you could just replace the decoder and/or motor with something else. As for me, I don't think it's enough of an issue on mine to really spend a lot of time worrying about. Yes, the slow speed creep could certainly be better. But big picture-wise, I think that the overall performance on these models is more than worthy of an "A" rating.
As for other people's problems with these models... Well, suffice it to say that Bachmann's QC is still best described as "all over the map" (particularly on complex steamers such as these). At a minimum, a lot of these will likely require some minor tweaks/bends to the running gear to clear up minor binding issues (I know mine did). So, yes, "try before you buy" remains the word of the day. And failing that, just return the bad apples to Bachmann for replacement should you wind up with any (and then go post an angry, long-winded rant on the internet forum of your choice).
Here's what Bachmann has to say about them -
The 2-8-4 Berkshire has joined Bachmann's line of innovative DCC sound-equipped locomotives. Now N scale modelers can enjoy a locootive with the Sound Value SoundTraxx steam package that includes authentic prototypical chuff, short and long whistles, bell, air pump, steam release, and blower; all in 16-bit polyphonic sound. The Berkshire also features a die-cast chassis, precision motor, and finescale detailing per prototype. Visit your favorite hobby dealer to enjoy the first N scale sound-equipped steam engine from Bachmann!
Features -
- DCC-equipped for speed, direction and lighting
- Includes Sound Value SoundTraxx Steam Package
- Prototypical chuff, short and long whistles, bell, air pump, steam release and blower
- Precision motor w/brass flywheel, die-cast chassis
- 12 metal handrails and stanchions
- Directional LED headlights w/rear tender backup light
- Die-cast marker lights, see through underframe
- Metal wheels
- Details and tender style per prototype
- Magnetically operated E-Z Mate Mark II couplers
- MSRP $329.00
Measurements - driver axle spacing: 0.480", driver diameter at flange: 0.408", driver diameter with flange: 0.460"
To remove the locomotive shell, first unscrew the screw on the underside of the chassis (underneath the cab). Next, use a small slotted screwdriver to pry the cab end of the shell upwards. Next, carefully detach the shell from the ladder details and then slide it forward to clear the headlight PC board. The shell should then left up and off. To remove the tender shell, simply unscrew the four screws on the underside of the chassis. The shell should lift off readily at that point. Note that the wiring runs through an opening in the tender shell, so you won't be able to completely separate the tender shell from its chassis until you unplug the wiring harness from the tender PC board.
Grade: A (with the above caveats re QC, the pilot coupler and the creep speed performance)
---