Atlas (China) EMD GP15-1
---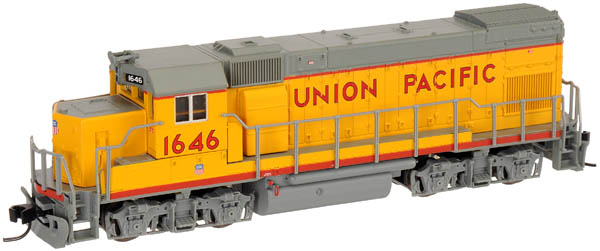 Introduced: 2008
This model was the first locomotive released under Atlas's "Trainmain" line - slightly lower prices coupled with slightly less sophisticated features. This particular model has an MSRP that's about 20% lower than a similar Atlas "Master Line" locomotive (their GP7, for example). Apart from minor corner cutting (the fuel tank is simply painted onto the chassis, there isn't any paint on the handrails or steps, etc), I'm told that the main thing that separates Trainmain models from Master Line models is that Atlas only offers the Trainmans in a single configuration (IE, none of "variations by road name", "multiple phases", etc found in the Master Line models).
I guess the raison d'etre for the Trainman line is trainsets - IE, lower the cost on trainsets by including cheaper-to-produce locomotives and rolling stock. But if you ask me, there isn't anything "cheap" about this particular locomotive (other than its price). Consist it with one of Atlas's Master Line locos and I'd be hard pressed to tell the difference in quality. Which is not to say that the rivet counters of the world won't find reasons to gripe about them. But come on, those guys are never happy about anything.

Internally, this model has most (if not all) of the niceties one normally associates with a modern Atlas diesel - low friction drive, 5-pole, skew-wound, slow-speed motor, dual flywheels, all-wheel drive and pickup, plastic gearing, DCC-Ready chassis, bi-directional LED lighting, shell-mounted Accumate couplers, low-profile / blackened wheels, etc. The only real wrinkle here is that these models do not have brass contact strips between the trucks and the chassis. Rather, the truck contacts rub the chassis directly -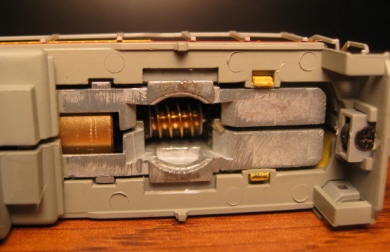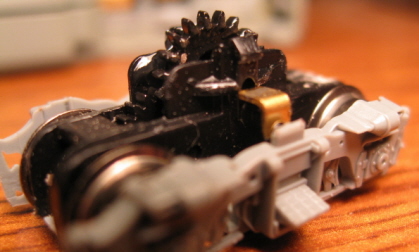 These models look great and run every bit as nicely as a "Master Line" locomotive. Mine did have a bit of an annoying buzz / whine to it when I first fired it up, but that all went away after a few minutes of operation. Now it's just as smooth and as quiet as can be. Slow-speed creep is impressive, pulling power is decent, etc. Overall, a typically stellar Atlas diesel model.
Here's what Atlas has to say about them -
Built between 1976 and 1982, the EMD GP15-1 4-axle diesel locomotive was powered by a 12-cylinder EMD 645E engine that generated 1,500hp. It was commonly used as a light road switcher or a yard switcher. A total of 310 units were built for American railroads.
Features -
- Scale dimensions and details
- Directional lighting
- DCC Ready
- Blackened metal wheels
- Dual flywheel equipped 5-pole skewed armature motor with a low friction mechanism
- Factory-installed AccuMate® magnetic knuckle couplers!
To remove the shell, simple take hold of the fuel tank with one hand and the shell with the other. Then, just sort of wiggle it up and off.
Grade: A
Reviewed 04/09 Model Railroader - "A light-duty Electro-Motive Division road switcher built to work yards or haul short local freights is now available as an accurate N scale model. The Atlas GP15-1 features exceptional performance, especially at slow speeds, and can be easily converted to Digital Command Control. All the dimensions of the Atlas N scale GP15-1 match prototype drawings in the January 1990 Model Railroader.
"The model's body shell is made of plastic, and all cab windows have clear window glazing. Molded-in details on the body and the plastic "GP type" truck sideframes are well-defined and match prototype photos. The shell features an inertial air filter on the roof behind the cab, which is correct for Conrail and Missouri Pacific prototypes. All the GP15-1's handrails are separately applied and made of flexible engineering plastic. These parts have in-scale profiles. Paint coverage on the model is smooth and lettering placement is correct per prototype photos. Painted details include the fuel filler cap and emergency shut-off on the side sill (painted red), and the cab window frames (painted silver.)
"I easily lifted off the press-fit body shell from the model's split die-cast metal frame. The motor and two brass flywheels are encased in the middle of the frame. The motor turns two worm gear shafts that transfer power to gearboxes above each truck. A printed-circuit (PC) board is mounted on top of the frame and has a golden white light-emitting diode on each end to illuminate the headlights, which operate according to the locomotive's direction.
"Out of the box the model didn't start moving until almost 5 volts were applied to the track. However, the N scale Geep's performance improved greatly after a few minutes of running time on our test track. After this brief break-in period, the GP15-1 had a starting speed under .5 scale mph at 3.5 volts. The model accelerated smoothly to a top speed of 80 mph at 12 volts. This speed is the same as that for one of the gear ratios available on the prototype. The N scale GP15-1 easily negotiated 9¾" curves. Thanks to its eight-wheel electrical pickup, the model's headlight didn't flicker as I ran the Atlas GP15-1 through no. 4 turnouts. With its accurate details and smooth performance, this GP15-1 is an excellent N scale replica of its light-duty prototype. $79.95 - Conrail, Burlington Northern, California Northern, Chicago & North Western, CSX, St. Louis-San Francisco, Missouri Pacific, Norfolk Southern, Union Pacific"
---