Atlas / Walthers (China) PS2 4427 Covered Hopper
---

These models were first introduced by Walthers back in the 1990's. In 2018, Atlas acquired the tooling for this car (among others) and re-released it as part of their "Master" line in 2019.
Here's what Walthers had to say about them -
Originally built during the 1960s and 1970s, many of the PS2 4427 covered hoppers are still in service today. They're perfect for handling all your grain traffic - like moving grain from the elevator to the feed mill. The models are highly detailed and feature crisp paint and lettering, an authentic 4-3-4 rib pattern and correct trough-style hatch with a thin roofwalk. Models are assembled with trucks and Rapido couplers.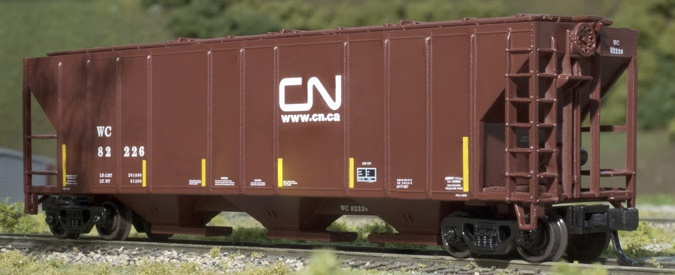 Here's what Atlas has to say about them -
Introduced by Pullman in the mid-1960s, the PS-4427 low side covered hopper became the backbone car for many of the large grain hauling railroads as well as the car of choice for many leasing companies. The 4427 also was used to haul malt and sand products, which increased their venerability. Many of these hoppers wore colorful, diverse schemes, which featured large logos or lettering. Some of these cars still exist in service today.
Atlas Features -
- NEW! Gate tracks on chute
- Upgraded brake wheel
- Sturdy body
- Detailed brake wheel and air reservoir
- Crisp lettering
- Accurate paint schemes
- Knuckle couplers
---
---