Atlas/BLMA (China) PS-4000 Covered Hopper
---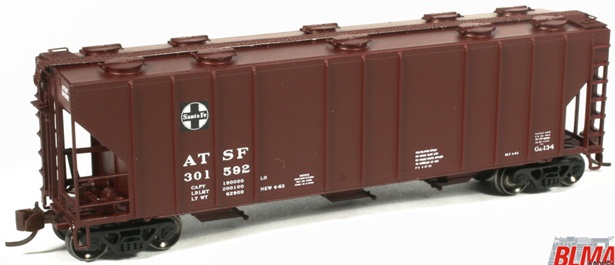 Originally developed by BLMA, these models were acquired and subsequently re-released by Atlas in 2017. Here's what BLMA had to say about them -
The Pullman-Standard PS-2CD 4000 cubic foot covered hopper was produced between 1962 and 1964, and remained in service throughout the US, Canada, and Mexico until the early 2000s. One of the most distinctive Pullman covered hoppers, this common 100-ton car is used in grain, fertilizer, and other bulk services. BLMA Models is the first manufacturer to offer this unique model in N Scale! With more than 2,000 prototypes placed into service, the BLMA Models N Scale replica is a perfect addition to your layout or collection.
We're kicking things up a notch! Not only is this model the first PS-4000 ever produced in N Scale, these first-class models feature some innovative features - in fact, a FIRST for N Scale! Along with the fine-scale attention to detail you've come to know from BLMA Models, these models ride on our ALL-NEW 100-Ton ASF Ride Control trucks and ALL-NEW scale profile, metal wheels! Furthermore, these models feature body-mounted Micro-Trains couplers for superb operation!
Features -
• Ready-To-Run
• Injection-Molded Plastic
• Fine-Scale Detail
• Chemically Etched Roof Walk
• Chemically Etched Brake Platform
• Accurately Painted/Printed
• Prototypical Ride Height
• ALL-NEW 100-Ton ASF Ride Control Trucks
• ALL-NEW Scale Profile Metal Wheels
• Body-Mounted Micro-Trains Couplers
• Three Numbers per Scheme!
---
---